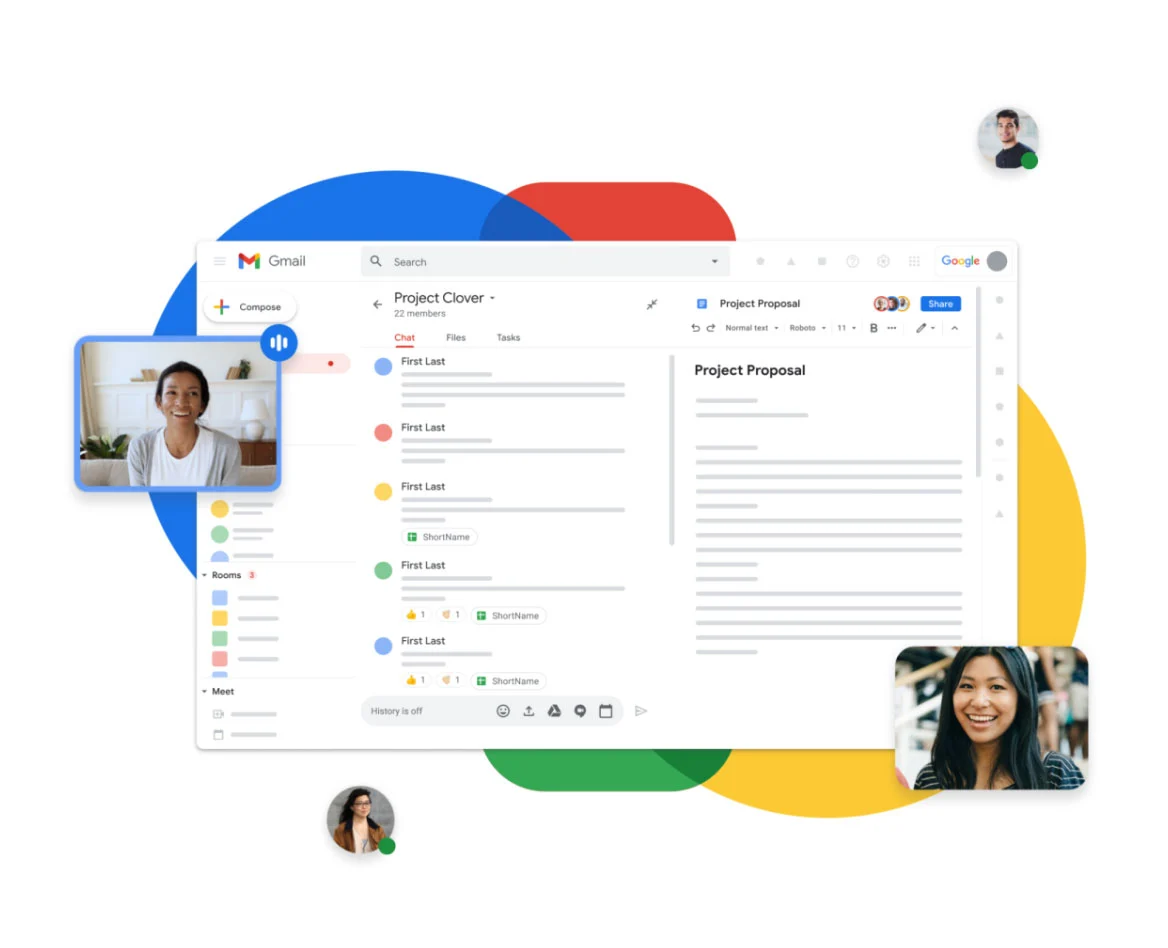 Google Workspace
How large and small teams connect, develop, and cooperate.
Google Workspace provides you with everything you need to strategically expand your business. It links you to people, tools, and improved performance. Collaborate and organise with ease using the browser or applications. We provide Google Workspace in Kerala.
Google Workspace Features
Small and medium-sized enterprises wanting to advance. Get powerful workplace tools that you can carry with you wherever you go. Everything from proposing a proposal to delivering an invoice is at your fingertips.
Google Workspace, formerly known as G Suite, is a collection of online tools that may help you collaborate to build your organisation. Customers may access a variety of tools and functions through Google Workspace. Gmail, Google Meet, Chat, Sheets, Slides, Docs, App Maker, and Cloud Search are among the applications available with Google Workspace. We provide Google Workspace in Kerala and provide the finest assistance for Google Workspace implementation and administration. Contact us right now if you need the best Google workplace in Kerala.
Share and collaborate
Instead of numerous emails and attachments, collaborate in one spot. You may handle feedback with flexible sharing permissions. Collaborate in real time.
Instead of typing, speak
Dictation is supported in over 60 languages by Google Docs. Go hands-free to expedite things. Voice typing includes punctuation and layout commands.
Make it your own.
Customise Google Wordspace to meet your specific requirements and create bespoke business solutions. No installation is required to modify code directly from your browser.
Apps for controlling
Each Google Workspace feature has its own app. Simplicity and complete control. Administrators may control the functionality of all Google Workspace-connected devices.
Global communication
Break down linguistic barriers. Google Translate now supports over 100 languages. Understandable in the global economy.
Find anything quickly
Quite possibly the most powerful search function ever created. Cloud Search throughout all your applications and full storage Drive ensures that you never lose even the slightest detail.
Choose your Plan
Get a variety of empowering Google Workspace features – select from two low-cost packages to meet your company's needs: "Working with CodersFort is something I strongly suggest. The crew is always professional and responsive to my requests and suggestions." "I appreciate and admire all of the work and support from the CodersFort team, especially Anandhu for dedicating so much time to us." SAYALI
Chief Executive Officer
"Professional, friendly and support quickly. Hopefully we can collaborate in the another Odoo implementation."