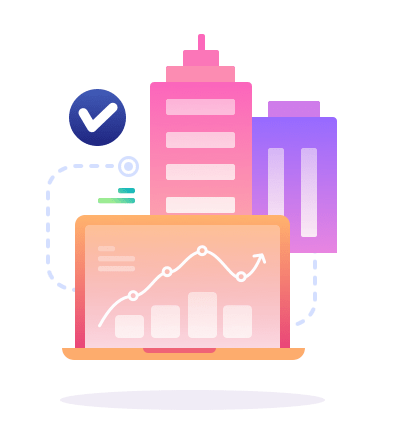 Search Engine Optimization & Marketing
SEO has the potential to have a significant influence on your company's most essential goals, such as generating leads and revenue.
Search Engine Optimization (SEO) is the process of ensuring that your company appears on Google's first page. SEO is an abbreviation for search engine optimization, and it refers to the process of enhancing a website so that it ranks higher in search results when consumers search for certain terms and phrases.
Before embarking on a search engine optimization (SEO) project, it is critical to comprehend the steps required in a successful SEO campaign. To that purpose, we divide the process into six parts and define the actions involved in each of these processes.
Research
The process of finding a set of keyword phrases that will be utilized in optimization is known as keyword phrase research. It is quite simple to identify the most frequently used phrase that contains your chosen keyword(s).
Goal Setting
Goals for the SEO plan are created after getting a thorough understanding of the site's beginning position. These objectives are quantifiable (a significant benefit of SEO over other advertising methods) and linked to the site's unique business objectives.
Content Building
In search engine optimization, content is king. The search engines like text; creating a large volume of high-quality content linked to your business will benefit you in a number of ways.
Page Optimization
After we've added new, high-quality material, we'll work on on-page SEO which includes Page Titles, Prominence of Targeted Keyword Phrases, Site Map, ALT and META data, Technical SEO.Additionally, utilizing larger font sizes and bolding the text helps underline its significance and improve the page's rating for that keyword.
Link Building
An essential part of any successful SEO strategy, let's build your internal link profile to add significance to your page keywords listed within search engines.The power of online sharing via social media gives huge opportunity for businesses willing to invest the effort in learning how to use it.
Reporting & Analysis
The same reporting that was done during the campaign's first phase is done again at regular intervals after optimization. Rankings, site traffic levels, social signals, and other critical indicators may then be compared to pre-optimization levels, resulting in demonstrable SEO strategy outcomes.
To begin, there is search engine optimization. Let's start with search engines and search queries. Search engines, such as Google, Yahoo, and Bing, are programmes that look for and identify items in a database that correspond to the characters or words that the user enters.
As the best SEO firm in Kerala, our team of specialists has worked on a variety of SEO projects and knows that each client's needs are unique. That is why, at CodersFort, we have specialized staff to manage each customer, ensuring that continuous assistance is accessible around the clock.
83%
Organic Traffic - Increase
38%
Average Visit Duration - Increase
21%
Pages Per Session - Increase
Keyword Research / Strategy
One of the most Important SEO elements is the target keywords. Let our team determine the best strategy for all your link building activities to increase your search engine ranking and organic traffic.
Activity Reports
We provide a detailed report of your website SEO performance evaluation, as well as data about your traffic, top referring keywords and a full explanation of your search engine activity.
GROW TRAFFIC & INCREASE REVENUE
Tell us about your project
Let us help you get your business online and grow it with passion
CodersFort is a next-generation business solution provider from Kollam, Kerala . We provide Odoo ERP solutions and services with the goal of improving your company processes to meet your ever-changing demands. Our major services include web design and development, SEO, and digital marketing.
"Working with CodersFort is something I strongly suggest. The crew is always professional and responsive to my requests and suggestions." "I appreciate and admire all of the work and support from the CodersFort team, especially Anandhu for dedicating so much time to us." "Professional, friendly and support quickly. Hopefully we can collaborate in the another Odoo implementation." SAYALI
Chief Executive Officer